Upgrade Your Roof Drainage System With A1 Roofing Bournemouth's Guttering Services In Bournemouth
A1 Roofing Bournemouth is committed to helping residents and businesses in Bournemouth enjoy guttering services that offer outstanding long-term investments. A1 Roofing Bournemouth have been providing excellent services for our customers since we started operations 10 years ago. Therefore, A1 Roofing Bournemouth will deliver on our promise as we have been doing for years.
Our Guarantee
---
Free site visit and survey
No hidden costs
British standards compliant
Fully Insured
Clean and efficient
Professional workmanship
Why Customers Have Made Us Their Preferred Choice For Guttering Services In Bournemouth
Guttering hardware supply is just one of several guttering services A1 Roofing Bournemouth provide. A1 Roofing Bournemouth other services include gutter installations, replacements, repairs, and maintenance. A1 Roofing Bournemouth have a 10-year no-leak guarantee on every guttering service we provide in Bournemouth. When A1 Roofing Bournemouth provides you with a guttering service, you can be rest assured it will withstand weather of any nature.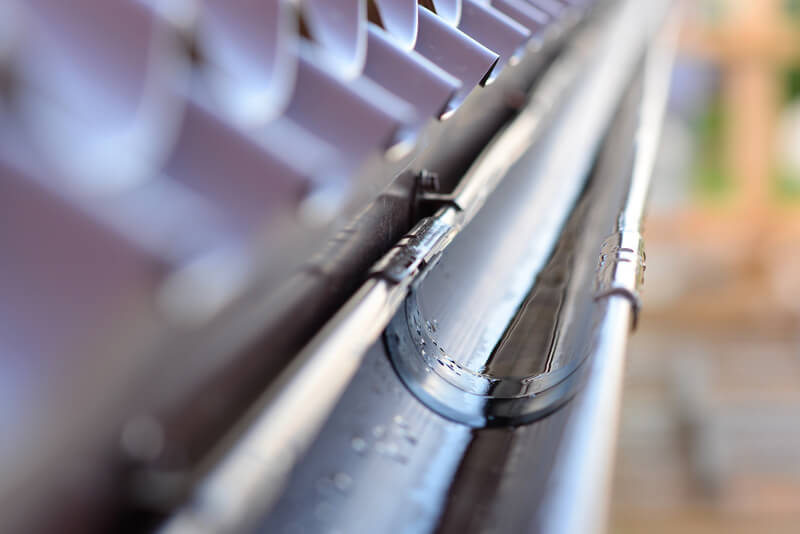 A1 Roofing Bournemouth meet your branding requirements with our wide range of gutter finish colour in Bournemouth. A1 Roofing Bournemouth only use eco-friendly methods and materials in all our services. A1 Roofing Bournemouth get all our guttering hardware from renewable sources. A1 Roofing Bournemouth gutter finishes last for over two decades, ensuring your gutter remains attractive for a long time. Whatever the design of your building, A1 Roofing Bournemouth bespoke guttering service team can modify specifications, and deliver as desired. A1 Roofing Bournemouth are fully insured, so we will always deliver on our projects, no matter what. When you order for A1 Roofing Bournemouth\'s guttering services in Bournemouth, you leverage our expertise of over ten years. Our services guarantee you a sound long-term investment. Renowned recommendation bodies like customers and Trusted Trader trust us to consistently deliver excellent service to our customers.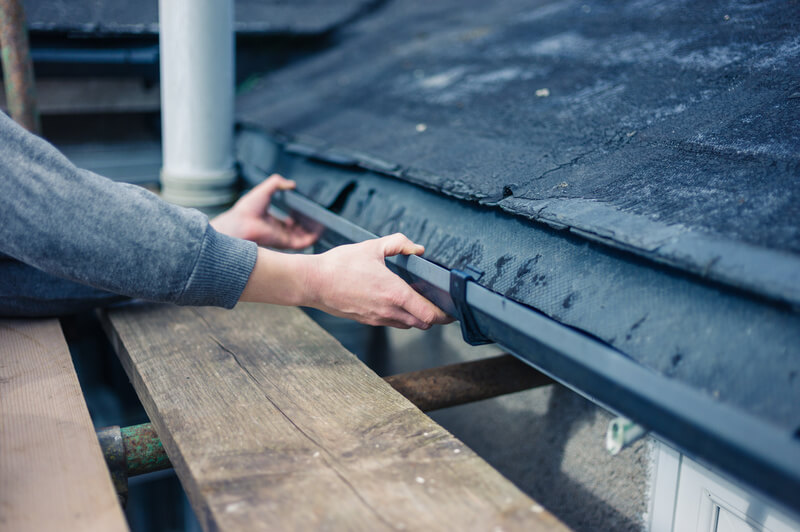 Get Your Gutter Cleaned By A1 Roofing Bournemouth In Bournemouth
Normally, your gutters will get filled with leaves and twigs from plants around your property in Bournemouth, causing blockage. Also, plants and debris on your rooftop such as moss and algae can fall into your gutter in Bournemouth. When they accumulate with time, you may suffer gutter blocks. All of these necessitate a periodic cleaning of your gutters by our experts at A1 Roofing Bournemouth. With A1 Roofing Bournemouth gutter cleaning services in Bournemouth, your gutter can't be any cleaner or freer from blockage.
If not properly and quickly addressed, damage to your Bournemouth gutter can result in further damage to your property. For instance, when your gutters are damaged in Bournemouth, your fascia and soffits are at risk of decay. Your Bournemouth gutter must be working properly to remove water from your foundation and basement walls. Otherwise, your foundation and basement would be at risk of damage from the logged water in Bournemouth. Let A1 Roofing Bournemouth repair your gutter now with our cost-effective gutter repair solutions, so that you don't spend extra money repairing further damages resulting from a delay.
Do You Need Help ?
Call Us Now On
The A1 Roofing Bournemouth Guarantee To You In Bournemouth
Reasonably-priced Services In Bournemouth
A1 Roofing Bournemouth is not here to clear your pocket or savings. A1 Roofing Bournemouth always look to work within our customers'budget to deliver cost-effective guttering solutions. A1 Roofing Bournemouth buy high-quality materials at lower rates than most because of our favourable arrangements with guttering material manufacturers. That's why and how A1 Roofing Bournemouth offer some of the most reasonably priced guttering services in Bournemouth without compromising the quality.
Guttering Services In Bournemouth That Meet All Your Requirements
At A1 Roofing Bournemouth, we care about our customers. It matters most to us in every service A1 Roofing Bournemouth deliver. Therefore, we guarantee that whatever guttering services you require of us in Bournemouth, we will meet all your requirements for quality and customer service.
Passion And Commitment In Every Guttering Service In Bournemouth
A1 Roofing Bournemouth treat each guttering case differently and get to the root of the problem before moving on to implement a lasting solution. The guttering services we deliver to you in Bournemouth are a product of more than 10 years of experience learning and developing using best practices. With the passion A1 Roofing Bournemouth have for the job, we will give you the best service possible.
Comprehensive Guttering Evaluation In Bournemouth
At A1 Roofing Bournemouth, we are committed to delivering one-time gutter solutions to you as desired. Such commitment and expertise is what you need in a guttering service in Bournemouth. Whether you want guttering repairs, cleaning, or replacements, a proper survey will help A1 Roofing Bournemouth get to the root of the problem in your guttering so that we can effectively fix it.
All Types of Roofing Work Undertaken
Do You Need Help ?
Call Us Now On
Commercial Guttering Services From A1 Roofing Bournemouth In Bournemouth
The appearance of your Bournemouth office or business premises contributes to the packaging of your brand, which can in turn influence sales. Don't let damaged, clogged, or old-fashioned guttering ruin the appearance of your Bournemouth business premises, or cause damages that can end up eating deep into your company's pocket. Let A1 Roofing Bournemouth restore your Bournemouth office building as your pride with our commercial guttering services. Quality Guttering Services for Domestic Clients in Bournemouth Maintain the structural integrity of your Bournemouth home by ensuring the soffits, fascia, basement and foundation are in good condition. Have the moss, leaves, twigs, and algae thoroughly cleaned out from the gutter in your Bournemouth home. Ensure that rainwater poses no danger to your Bournemouth home. A1 Roofing Bournemouth domestic guttering services can help with all of these. Contact A1 Roofing Bournemouth in Bournemouth on 01202 287173 for an obligation-free quote, and to enjoy a guttering service that exceeds your expectations.